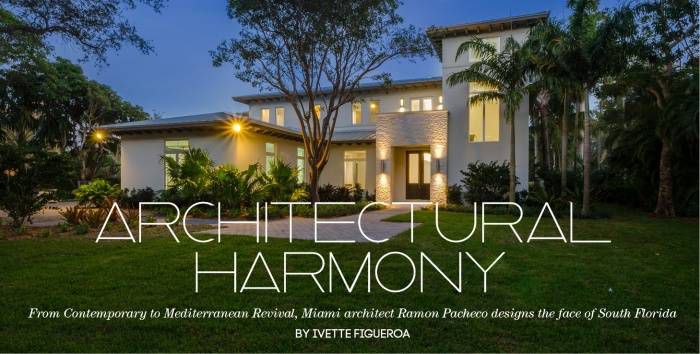 Humble and understated, renowned Miami architect Ramon Pacheco has designed residences for Gloria Estefan, Michael Kane and Univision star, Don Francisco. He has designed well over 40 homes in Pinecrest and over 200 homes in the Coral Gables area alone.
Ramon grew up in a small town in Cuba where he completed his high school education and dreamed of studying Architecture. He moved to the United States at the age of 17 and began attending the University of Florida where he pursued his dream career of becoming an architect.
"Since I arrived from Cuba, I have been living in Miami with my family," says Ramon. "I enjoy the subtropical climate and the cosmopolitan environment that is Miami today."
Over the last 40 years of being in practice, Ramon has seen the evolution of architecture in South Florida. "The changes I have seen throughout the years in Pinecrest and Coral Gables for high-end residential homes is the appeal of a more open feeling," says Ramon. "The great room concept and the Contemporary approach are becoming more popular in Pinecrest. In Coral Gables, the Classical and Mediterranean approaches continue to have a presence due to the origins of Coral Gables. Fortunately, we accomplish both styles extremely well."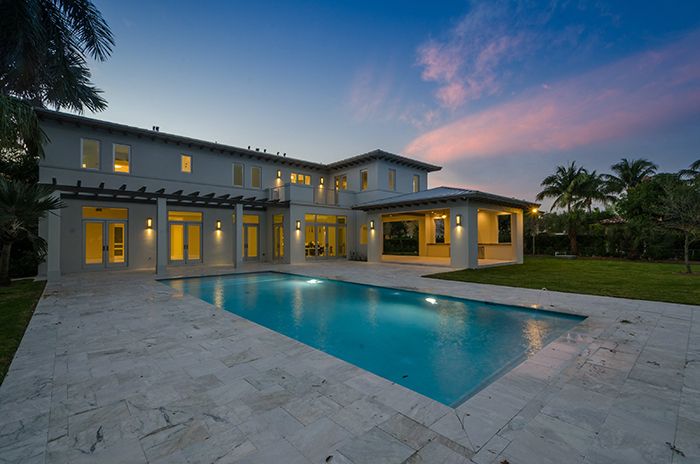 Among his extensive portfolio of work is the Young Israel of Kendall in Pinecrest and Décor House on Ponce de Leon in Coral Gables. "I was commissioned to design the Young Israel of Kendall after the completion of the main residence for one of the members of the synagogue. In order to prepare myself for this project, I did a lot of research on the history, beliefs, and procedures of Orthodox Jewish Temples. I believe that my research and high recommendation helped my firm be selected from among other firms. Their requirements were for a Mediterranean fashion, which I have a lot of experience in."
When tackling a new project, Ramon creates a "program" in which he asks his clients several questions and analyzes both their needs and the raw material he has to work with.
"The most important elements that I take into consideration when designing a home are function and façades. Both of these elements go hand-in-hand; you cannot design a façade and force the floor plan into it or vice versa," he says. "When I start a new project, the first thing I do is visit the site to contemplate the existing tree locations, orientation, views and the client's program. My inspiration is drawn from the surrounding environment, existing vegetation, views, our climate and my client's personality."
Ramon's quiet passion for architecture is shared by his two daughters Monica and Rebecca, who are also architects with his Miami firm, Ramon Pacheco & Associates. Ramon's partner, Hector Martinez, joined the firm 15 years ago and was made partner a year and a half ago.
Says Ramon: "The philosophical quote that I live by is 'Architecture is the harmonious play of form, space, light and nature that enriches our lives.'"
It is a philosophy that has enriched his career, his family and his life.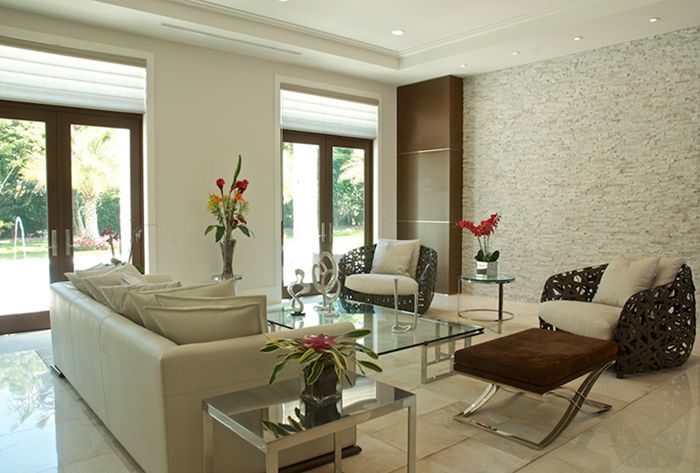 Contemporary Approach
Hollub Homes originated in the Pinecrest area 60 years ago. Today, Miami architect Ramon Pacheco brings a contemporary touch with his smart home designs. Clean, elegant lines and neutral colors define this home, located on 10918 SW 63rd Ave., Pinecrest. The liberal use of windows and glass panel doors lend a quality of openness and light to the residence. "Harry Hollub from Hollub Homes was a great client to work with, he was like an open book to me where I developed what I desired and he loved it," says Ramon. "This was a house that had to be designed with an open mind in order to meet the requirements of many people. It was a custom home designed for a broad spectrum of clients and I believe this home was very successful."
Bedrooms: 5
Bathrooms: 5 and 1 powder room
Square Feet: 8,224
Special Features: Pool, Trellis Terrace, 3-car garage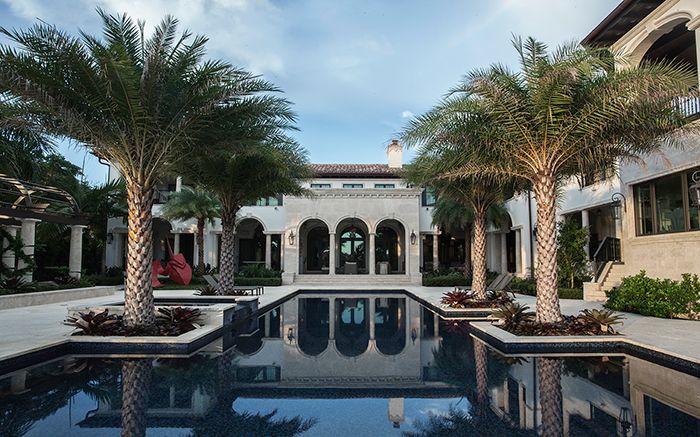 Spanish Roots
Coral Gables has a long-standing history with Mediterranean Revival architecture and has built a cohesive community that includes overall harmony with the environment using this style. Early city planners were influenced by the aesthetics of the "City Beautiful Movement" that swept across America in the early 1900s. The movement encouraged the use of wide tree-lined avenues, monumental buildings, winding roadways, green space, ornate plazas and fountains. In 1986, the city adopted a Mediterranean Architectural Ordinance, which provides incentives to builders who conform to the Mediterranean Revival style, using terra cotta colors and barrel tile roofs. Architect Ramon Pacheco pays homage to this style and adds Classical touches such as the Roman columns found both in the exterior and interior of this home, located on 23 Tahiti Beach Island Road, Coral Gables.
Bedrooms: 9
Bathrooms: 7 and 2.5 baths
Square Feet: 18,461
Special Features: Smoking room, wine cellar, guesthouse with bathroom and sauna, 2 BBQ terrace above guesthouse.
Popularity: unranked
You Should Also Check Out This Post:
More Active Posts: