Few places are as iconic of Pinecrest as its historic jewel – The Deering Estate at Cutler. This environmental, archeological and cultural oasis offers a glimpse into the life of famed businessman, art collector and philanthropist, Charles Deering (1852-1927).
The 444-acre preserve offers daily tours of his historic houses – the Stone House and Richmond Cottage – as well as tours of the lush natural areas where fossils have been excavated that date as far back as 50,000 years. The Deering Estate also serves as an educational facility with classes, nature tours, and family-friendly activities that showcase Charles Deering's interests in all things art, antiques, and botany.
At the heart of this historical sanctuary is a group of dedicated women that have come together to restore the Estate to its original splendor. The 100 Ladies of Deering is a fundraising arm of the Estate created by Suzuyo Fox in 2012.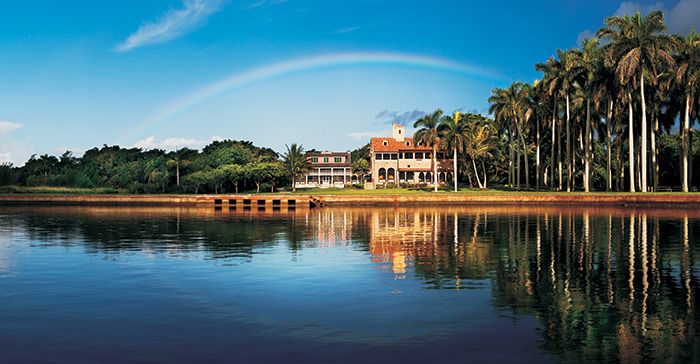 "She believed in the power of women," says Laura Lagomasino, Director of Development at The Deering Estate Foundation. "The idea was to furnish the homes, since there was very little inside at the time. The concept is to bring people back to the time that Charles Deering lived in."
Members of the board of The Deering Estate Foundation formulated a committee to create the bylaws and recruit the group's first members, which were inducted in 2013. "We are currently at 36 members, many of which are renewing for the second year. It's a very prestigious number to go for 100," says Lagomasino.
These ladies have hit the ground running, creating a "furnishing plan" and hosting several events to celebrate the various donations they have received.
"In September we celebrated the donations of Marta Weeks, who bequeathed an 8-acre parcel of land along with her home that is adjacent to the Deering Estate, as well as furnishings from the McCormick and Deering families," states Lagomasino.
"We've only been at this for a short amount of time, but we've accomplished so much," she says. "One of the interesting things we've learned is that when you talk about historical homes, you don't just place antique pieces – you have to work according to a plan."
The furnishing plan the 100 Ladies created dictates what period a piece needs to be from for each room. This is based on documentation, such as old photos, that illustrates what Charles Deering had in that particular room at the time.
"The 100 Ladies, along with the Deering Estate at Cutler, are going to decide on the next few projects," she explains. "Potential projects include updating bookshelves we received that will be placed in Charles Deering's bedroom, placing wicker furniture in Mrs. Deering's garden room at Richmond cottage, and recreating Mrs. Deering's tailor room in the Stone House – complete with antique garment displays."
One of the goals of the group is to create a feeling of being transported back in time, without the conventional and stuffy experience in most museums.
"We want people to feel at home here, but still protect these pieces. One of the emphases that the Deering Estate management team has is that they don't want these homes to be like traditional museums where everything is in glass cases and so far away where people can't see them," explains Lagomasino.
In the end, the group's focus is on what's best for the Estate. "The Ladies have such a passion for this property and for what Charles Deering loved – education, art, and the environment. They are here because they love the Deering Estate and they believe in showcasing this property."
Deering Estate at Cutler
16701 SW 72 Ave., Miami
305.235.1668
www.deeringestate.org
Admission is $12 for adults and
$7 children (ages 4-14)
and includes tours of the historic
homes and natural areas.
Popularity: 25%
You Should Also Check Out This Post:
More Active Posts: