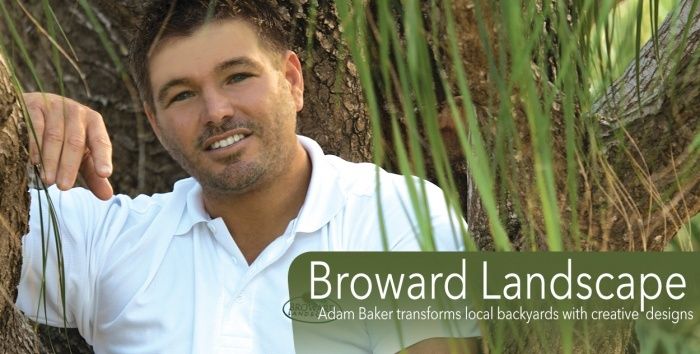 Adam Baker is a man of vision – even at 8 years old. While his friends were off playing in their yards, he was busy knocking on his neighbors' doors in Coral Springs, asking to tend theirs.
"They may have been doing me a favor by allowing me to cut their grass, but times have changed now," says Baker. And indeed they have. With more than 50 employees and offices all over South Florida, his homegrown business, Broward Landscape, has flourished.
"Seventeen years later, I still maintain my original 10 customers and first two employees," he says. Part of the reason for that amazing track record is his attention to detail. While others may see a perfectly livable backyard, he sees the potential for an outdoor living space that his clients fall in love with.
Broward Landscape has grown to encompass all facets of outdoor design – including landscapes, hardscapes, outdoor kitchens, fire pits, water features and more. Many of his clients can find a one-stop shop for all their landscaping needs with him.
"This guy is one in a million. I was looking for outdoor lighting and he saw the potential of making it into a showplace," says Boca West client Steve Etter. "He truly is the best at what he does."
"My biggest accomplishment by far was growing my business since I was kid and servicing the same yards from when I was 8 years old till today for the same price to my loyal customers," says Baker.
Baker's extensive experience is enhanced by his passion and drive for landscaping. Having graduated from college and becoming a certified arborist, Baker nurtured his business and his talents for more than two decades.
"I own four different nurseries where I grow and collect exotic specimen trees," says Baker. With Baker's keen vision and direction, most of those trees find their way into his clients' homes as masterful centerpieces.
For the Etters, Baker transformed their wide-open lawn with creative vignettes – from ponytail palm trees (one of which is over 100 years old!) to Sylvester palms he had craned in over their house.
When he's not busy transforming backyards, Baker enjoys what South Florida has to offer – the ocean, climate and an eclectic selection of restaurants.
Popularity: 25%
You Should Also Check Out This Post:
More Active Posts: