In 2000, the City of Coconut Creek began working on a master plan to establish a network of urban greenways and trails. The initiative started as a way to solve a problem, says Director of Sustainable Development, Sheila Rose. The city had to make a choice on whether to create a potentially irritating cut-through for traffic through a neighborhood or to establish a greenway with pedestrian trails.
"We saw an opportunity to eliminate traffic and this greenway was set into a larger vision, which is a system of bicycle greenways," says Rose.
Today, Coconut Creek is home to seven greenways with an eighth project in the works at Whispering Pines. These greenways are protected open spaces managed for conservation, recreation and non-motorized transportation.
The trails within the greenways provide access between neighborhoods and destination points, opportunity to travel without an automobile and close-to-home paths for walking, jogging, and bicycling.
"The real benefit of these greenways, particularly in Coconut Creek, is that they provide a way to walk or bike between neighborhoods. Many of these neighborhoods were made when gated communities were popular, so greenways provide a backdoor connection while encouraging people to get out and walk," says Rose.
Many greenways also offer office workers easy walking access to shopping centers, restaurants and super markets, instead of being forced to use a car. "These are hidden little gems, sometimes people are surprised to see them," says Rose. "It's developed into a great little system."
Here we highlight the natural areas found in Coconut Creek and give you a snapshot on how nature has woven itself into the fabric of the city.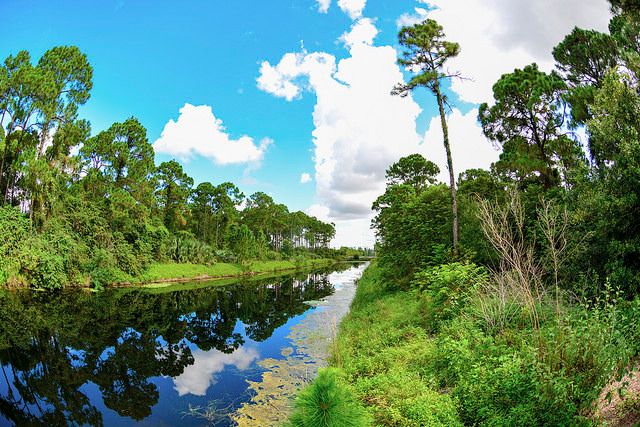 West Creek Pineland Natural Area (4800 W. Hillsboro Blvd.)
This 7.43-acre tract consists of two parallel pineland parcels connecting the City of Coconut Creek's urban greenway trail system. The site, adjacent to the county's Helene Klein Pineland Preserve and Saw Palmetto Natural Area, buffers visitors from busy Hillsboro Boulevard and showcases the C-5 canal. This trio of natural areas, although separate and distinct, is critical for migratory birds for refuge, forage, and resting during long migration routes, as well as a habitat for non-migratory birds.
Habitat: This site consists primarily of mesic flatwoods. The protected natural area is representative of the pine flatwood communities once common in this region prior to urban development. The bisecting C-5 canal provides a freshwater component to the landscape and introduces additional wildlife to the pineland community. The characteristic tree seen at this site is the South Florida slash pine, with a mixed understory of saw palmetto, American beautyberry, and a variety of native pineland grasses. Dead slash pines, called "snags," are critical for several of the woodpecker species, and birders love these areas for the chance they offer to see these active and often vocal birds.
Wildlife: Resident and migratory birds such as the great horned owl, pileated and red-bellied woodpecker, belted kingfisher, great egret, great blue heron, anhinga, several species of hawk, osprey, mottled ducks, and various wood warblers can be seen at West Creek. Among the freshwater fish documented in the canal are alligator gar and largemouth bass. Nearly 15 species of butterflies are prevalent throughout the site and commonly seen from the greenway. "The greenway is also a great way for animals to move around and not get into traffic," says Rose.
A Little History: Although West Creek Pineland is representative of a typical mesic flatwoods habitat, it was undoubtedly changed forever by the introduction of the intricate South Florida canal and ditch systems in the early 1900s. In 1912, three years before Broward County was carved out of Palm Beach and Dade counties, the location of the future natural area was owned by the land development company Palm Beach Farms. Ownership of both the east and west parcels that now make up the site changed hands several times from the 1950s to the 1980s, as the general area became increasingly developed. Both parcels were purchased separately by Broward County in 2004, through the 2000 Safe Parks and Land Preservation Bond program.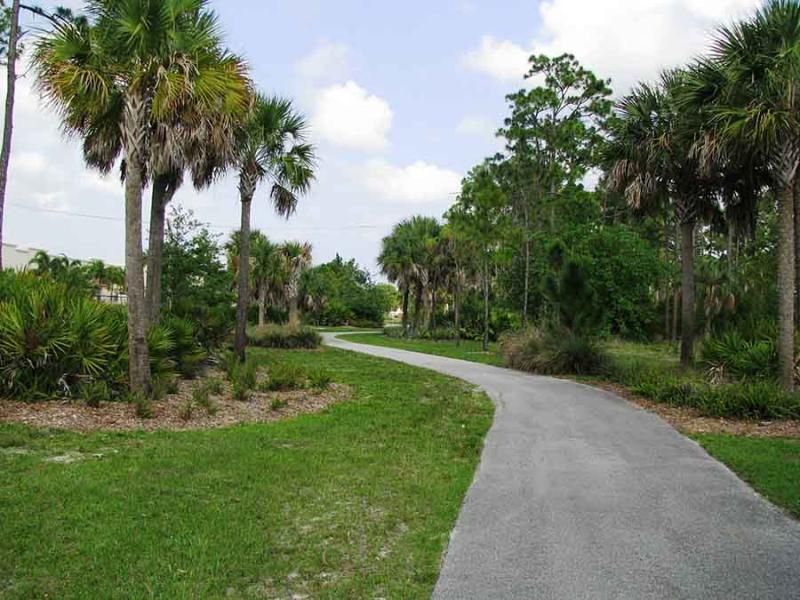 Long Pine Greenway (6951 Lyons Rd.)
This site is accessible to pedestrians only, with parking available at nearby Helene Klein Pineland Preserve or at the Hillsboro Pineland Natural Area, both managed by the Broward County Parks and Recreation Division. A six-foot-wide paved trail – part of the Coconut Creek multiuse greenway trail system – runs through the southern end of the property and features a 100-foot-long pedestrian bridge that crosses the C-5 canal. Interpretive signs, benches, and a large, shaded gazebo are provided for leisurely wildlife observation and resting along the greenway. Vantage points are especially good along the bridge, and visitors are encouraged to bring binoculars. This section of the greenway is referred to as the Long Pine Greenway. "The county gave the City of Coconut Creek an easement so we could move our greenway out of the right of way and become a part of the natural area," says Rose. "The neat thing about the Long Pine Greenway is that it provides great connectivity for the properties that were acquired under the 2000 Safe Parks and Land Preservation Bond Program."
Photography by The City of Coconut Creek
Popularity: 25%
You Should Also Check Out This Post:
More Active Posts: