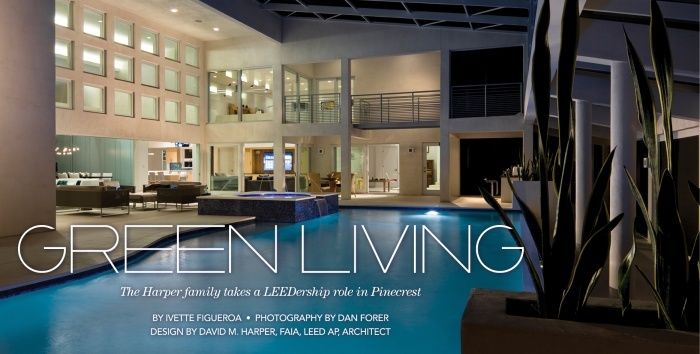 A vocal advocate of sustainability, Pinecrest Mayor Cindy Lerner is a pioneer in adopting green practices, including implementing alternative energy in her own home, opting to install a full array of electricity-generating solar panels on her roof. Now, others are "walking the talk," including Pinecrest residents David and Jennifer Harper, who recently took a bold step in energy efficiency when designing their own home.
David, principal and director of the architectural firm HKS, has been a trailblazing architect since his college days at the University of Miami. His innovative techniques garnered him recognition in the design community, and now his dedication to sustainable building has left a lasting impression in the Pinecrest community. His wife, Jennifer, was introduced early to sustainable practices having grown up in a large family in New Orleans.
"My family was an early adopter of recycling and I got the bug in me for living a more sustainable life," says Jennifer. Jennifer's career eventually landed her in a position to aid in the certification of the largest LEED Gold existing building in the world (which was a renovation of housing originally built for Olympic athletes in 2006 and would now be home to 2,000 Georgia Tech students).
"I already did the basics – reduce, reuse, recycle – but working with them showed me that there is so much more to sustainable living. There were health benefits that were attractive to me, so when David and I decided to build a home of our own, I really wanted to incorporate those ideals."
"We felt an imperative to walk the talk," says David. "So many architects and designers preach about sustainability, but they themselves don't follow their own example. We decided to take a leadership role for the good of the broader society, too."
In sync with Pinecrest's "green mission," the Harpers decided to demonstrate their personal commitment and to raise the bar on sustainable design standards – a commitment that was recently recognized at GalaVerde, an annual U.S. Green Building Council LEEDership and Green Award event honoring the best and brightest in sustainability. When selecting where to plant their roots, the Harpers were convinced that Pinecrest was the perfect place.
"Any good design starts with the site and we were very fortune to find the location in Pinecrest that we did," says David. "We chose Pinecrest because it's a very green community from a variety of standpoints. Pinecrest is a family-friendly community with great schools, parks and open spaces. We found a site that borders a 500-acre nature preserve that had never had a house on it. The location is still relatively close and accessible to the hustle and bustle of downtown Miami and Coral Gables. A combination of all of those factors is why we chose Pinecrest."
The Harpers' home was named the 2014 Most Outstanding LEED for Homes/Single Family Project by the U.S. Green Building Council South Florida. "That alone is an incredible honor, because it is so wonderful to be recognized by a group of people who lives sustainability every day," says Jennifer. "What made that award even more special, however, was the fact that our very own Mayor Cindy Lerner also won an award that night for 2014 Most Outstanding Green Elected Official. It made us feel that we definitely chose the right community in which to pursue a sustainable lifestyle and build our family's home."
The process, however, was anything but smooth. The Harpers discovered that obtaining a LEED Gold Certification while maintaining the size and quality of a home typically found in Pinecrest would be challenging.
"You have penalty points applied against you for having a larger home [than the standard sized home in America] because there is a goal and incentive to raise the bar to offset the fact that larger homes normally use twice the amount of energy. In order to compensate for that, there is a heavy penalty that often makes people give up on achieving LEED for a home of this size," says David. "The heat and the humidity also make it a lot harder to design a large home with low energy usage." By prioritizing sustainability, durability and safety, less was spent on expensive embellishments. "We made other choices [when designing our home] to keep the costs the same," says Jennifer. "We don't have elaborate ornamentation.
Instead, the home supports sustainability objectives through the use of home automation, controlled LED lighting and sun shades, super high efficiency insulation, cool roofs, high volume low speed fans and FSC-certified bamboo woods and eco-friendly products throughout.
"We don't personally feel we've made any sacrifices; we still live in a luxury home," says Jennifer. "Our house is very comfortable and enjoyable, but part of that is that we prioritize things like clean air, etc. We're not making sacrifices, we're just reprioritizing."
The 7,560 sq. ft. home located in Pinecrest consists of 6,500 sq. ft. of primary air-conditioned space broken down into five separate zones of energy usage, which are responsive to actual occupancy loads.
"Our home is three times more energy efficient than other new homes that meet all current codes. We have a High Energy Rating System (HERS) index rating of 33, and normally a newly built home today has a HERS rating of 100."
The Bauhaus-style home was designed to withstand South Florida's warm and humid climate while producing its own energy by using a bifacial photovoltaic solar trellis, which doubles as a semitransparent canopy roof, effectively rendering the house "off the grid" by midday on sunny days.
The expanded space of their "Great Room" became an environment that could be both controlled and open, both indoor and outdoor, by the extension of the roof over the pool. The integrated space serves as a transition into the surrounding natural environment.
"The relationship between the inside and the outside is a wonderful feature," says Jennifer. "We can be doing a variety of activities and still be connected with one another. For example, David and the kids can be swimming while I am cooking, and it is still possible to feel that we are all in relatively close proximity."
To take advantage of the spectacular views of Biscayne Bay, David designed a 35-foot tall limestone clad concrete tower that extends upward from the southeast corner of their "Great Room." The tower serves as both a functional element, supporting vertical solar hot water collector tubes and is potentially home to a future wind turbine, while also connecting the home visually to the larger community.
"I think a lot of people want to build sustainably and live in a healthier home, it's just that something like LEED and other certifications give you a measure for what you've accomplished," says Jennifer. "We're excited to be able to share what we know. It's part of what LEED advocates, the sharing of knowledge with your community."
Popularity: unranked
You Should Also Check Out This Post:
More Active Posts: